Tour Tracker
2011 Elite Series - Power-Pole Citrus Slam
Preview
The lazy St. Johns is the longest river in Florida. Regarded by locals as the bass fishing capital of the world, it's certainly one of the first places bass were ever targeted by anglers. It also has a storied history with BASS, which has held 17 professional tournaments here. The last was the 2008 Southern Open won by Elite pro Peter Thliveros. Over three days in January, Peter T weighed in 55-3 to take the title.
Tour Review
KVD takes a gamble on day 4
Mar 21, 2011 - 9:37 AM
KVD moved backward (9th place to 11th) on a Sunday, which is a rare occurrence. "It was a tough day and I knew I should've gone to (Lake Rodman)," he said on stage. "With the wind out of the east, it really muddied up the outside edge (on George). I scrambled around and threw frogs and stuff in the grass, but they just wouldn't eat it. I knew I had to have a big stringer to have a shot and it just didn't work out."
Kevin's thoughts on day 4 - Citrus Slam
Mar 20, 2011 - 9:41 AM
KVD's 9-5
Mar 19, 2011 - 2:36 PM
Kevin VanDam, in sixth place after two days, landed a 9-5 Friday, the biggest of the day brought to the scale.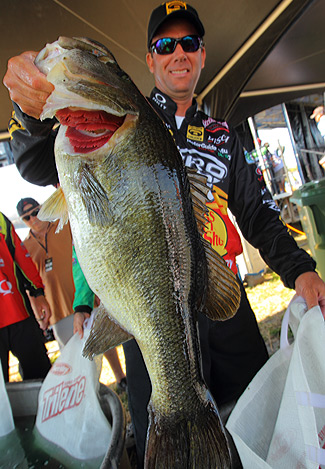 Seigo SaitoKevin VanDam shows off the big bass of Day Two, a 9-5.
"I stumbled into that one," he said. "I was just kind of sneaking along, saw a bed and pitched in there. The fish wasn't even on the bed; it just stuck its head out of the grass. I pitched a couple more times and it moved out of the bed. It took me about 20 throws to get her to bite, and I caught her."
He already had a limit, so he traded a 1 1/2-pounder.
"It was critical, without a doubt. I didn't have a whole lot else on top of that."
Kevin on the water, day 3 Citrus Slam
Mar 19, 2011 - 12:02 PM
Kevin's Take on day 3, Citrus Slam 2011
Mar 19, 2011 - 8:05 AM
Kevin's take on day 2, Citrus Slam 2011
Mar 18, 2011 - 4:05 PM
Kevin's take heading into Day 1 - Citrus Slam 2011
Mar 18, 2011 - 9:33 AM
Kriet's advice to KVD
Mar 17, 2011 - 1:19 AM
Jeff Kriet, Kevin VanDam and Jami Fralick were all fishing the same 40-yard stretch of water on Thursday, but none of them were having success. Each knew what sort of fish the other was on, and they ranged from 4 to 6 pounds. VanDam was the first to get bit, and when he did, Kriet offered the following advice, in jest:
"Hey, Kevin, why don't you take your 1.5 and fish somewhere else?"
Kriet was jokingly referring to VanDam's Strike King KVD 1.5, the lure he used to win the 2011 Bassmaster Classic and to place fourth at last week's Elite season opener, March 10-13 on Florida's Harris Chain of Lakes.
db->select($selects) ->join("exp_channels", "exp_channel_data.channel_id = exp_channels.channel_id", "INNER") ->join("exp_channel_titles", "exp_channel_data.entry_id = exp_channel_titles.entry_id", "INNER") ->where(array( "exp_channel_titles.status" => "open", "exp_channels.channel_name" => "advertisements", "exp_channel_data.field_id_149 <=" => $todays_time, "exp_channel_data.field_id_150 >=" => $todays_time, )) ->order_by('RAND()') //->limit(1) ->get("exp_channel_data"); $locations = array(); $results = $results->result_object(); foreach($results as $idx => $r): $locs = explode("|", $r->locations); foreach($locs as $loc): if ( ! isset ( $locations[$loc] ) ): $locations[$loc] = array(); endif; $locations[$loc][] = $r; endforeach; $results[$idx]->impression_js = str_replace('[timestamp]', time(), $results[$idx]->impression_js); $results[$idx]->ad_image = str_replace('{filedir_15}', '/assets/img/ads/', $results[$idx]->ad_image); endforeach; return ( isset($locations[$location]) ? $locations[$location] : array() ); } endif; ?>
2011 Elite Series - Power-Pole Citrus Slam
St. John's River, Palatka, Florida
Mar 17 - Mar 21, 2011
Leaderboard
1

Edwin Evers - 77-1

1. 16-8, 2. 22-5, 3. 19-4, 4. 19-0

2

Terry Scroggins - 74-3

1. 17-3, 2. 22-13, 3. 13-15, 4. 20-4

3

Alton Jones - 73-12

1. 26-9, 2. 22-13, 3. 11-4, 4. 13-2

4

Todd Faircloth - 68-13

1. 23-10, 2. 10-5, 3. 20-2, 4. 14-12

5

Steve Kennedy - 65-1

1. 13-8, 2. 8-13, 3. 26-0, 4. 16-12

6

J Todd Tucker - 61-8

1. 20-8, 2. 21-5, 3. 12-0, 4. 7-11

7

Kelly Jordan - 58-14

1. 15-10, 2. 16-1, 3. 15-14, 4. 11-5

8

Dustin Wilks - 58-12

1. 18-7, 2. 9-5, 3. 21-7, 4. 9-9

9

Keith Combs - 57-13

1. 19-8, 2. 14-9, 3. 12-12, 4. 11-0

10

Casey Ashley - 57-12

1. 20-9, 2. 12-3, 3. 11-6, 4. 13-10

11

Kevin VanDam - 52-14

1. 17-3, 2. 17-13, 3. 12-2, 4. 5-12

12

Billy McCaghren - 47-4

1. 20-11, 2. 15-11, 3. 7-14, 4. 3-0
History & Notes;
Big Bass
Day 1: Jason Williamson 10-3
Day 2: Kevin VanDam 9-5
Day 3: Steve Kennedy 8-12
Day 4: Edwin Evers 8-13